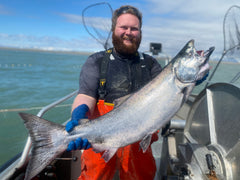 Hi everybody!
 Welcome to the new website for the retail side of our fishing business! Shannon, Evan, Hunter, and I   (Captain Ken) are very excited to be launching this new website as it has been a longtime goal of ours to bring the best quality seafood Alaska has to offer directly to consumers. Many folks in our home town of Cordova, Alaska, have delved down the path of   direct marketing, primarily for the world renown   Copper River Salmon. While we will be offering Copper River products on this site, we are most excited to be one of the first direct to consumer brands in Alaska to direct market such a broad variety of local, quality, sustainable, and fisherman sourced seafood direct to consumer. Copper River is just a portion of what we do here at Serenity Seafoods, and we really believe you will enjoy our quality halibut, sablefish, and pink salmon offerings as our prized Copper River catch.
Thanks again for visiting our site, please tell your friends and share us on social media, and feel free to send us any feedback you have! Most importantly, welcome to the Serenity Seafoods family!
"From our family to yours, dinner is served!"
- Captain Kenneth Jones