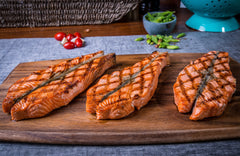 *This post was originally published on the blog Knit.Lit.Kitchen in May 2023, written by Shannon Jones.
It's summer in South Central Alaska and the fishing season is well under way.  That means Copper River King Salmon is a summer staple on my dinner table and I am thrilled to say the least.  I love this rich, succulent and fatty fish and having it is always a treat.  While there are many different ways to cook salmon, I have found that everyone has a favorite preparation and it really depends on the kind of Salmon we are having.  For King Salmon, there are two cooking methods favored in my family: grilling and slow roasting.  In this blog post, I will walk you through both methods and let you decide for yourself which one you enjoy most.
Why Copper River King Salmon?
You may be asking why we are specifically talking about Copper River King Salmon.  Couldn't we use any King Salmon?  Sure, you can, but Copper River King is frankly, the King of King Salmon.  Copper River King comes from the mighty Copper River in Alaska.  The Copper River is 300 miles long and empties into the Gulf of Alaska near my hometown of Cordova, Alaska.  In order to make the very long journey upriver to spawn, the salmon have to store up more fat.  This makes the Copper River King higher in Omega 3's than other King salmon, giving them their rich flavor and buttery texture.  They are wild salmon sustainably caught in pristine waters and prized in the food community.  
For these recipes, if you can get wild Copper River King Salmon, I really encourage you to do so.  The methods described here highlight the texture and flavor of the Copper River King and will give you an ultimate dining and cooking experience.  The season for Copper River King is very short, and the opening price can be rather high, but if you can get it, give it a shot.  I promise you will not regret it.
Cooking Copper River King Salmon Method 1-Grilling
As I mentioned above, Copper River King is very high in fat content.  This makes the texture of the fish a little softer and buttery.  It also releases fat when cooking, and I find that cooking the fish on the grill produces a firmer cooked fish as it isn't cooking in all it's fatty juices.  The drip off the fish while cooking and allow it to firm up a little more.  A lot of people like this method for this reason as they prefer a less fatty or soft texture in their fish.  It's also a very fast and easy cooking method and brings the flavor of the fish front and center.  
How to Grill your Salmon
Remove all pin bones from your Salmon fillet/portions.

Using a

very

sharp knife, slice your salmon into 2 inch wide pieces.

Slice each 2 inch piece down the center, not quite cutting through the skin-this makes butterfly steaks of your fish when you open it up.  

Season both sides of the salmon steaks with seasoning-I use garlic powder, onion powder and salt.  Sometimes I add Johnny's Salmon Seasoning.  

Drizzle with a little olive oil (flavored oil like orange or lemon is great here).

Place prepared steaks on a hot grill.  Use a grill mat if possible-it keeps your grill clean and helps if your fish falls apart.  

Grill until bottom has turned opaque about half way through and then flip.  

Cook for a few more minutes, but be careful not to over cook.  I know, it's a thin line.  Essentially the salmon should be opaque and lighter in color than raw, but it shouldn't be super stiff.

Enjoy
Cooking Copper River King Salmon Method 2- Slow Roast
This is my favorite way to eat King Salmon.  I think that it brings out the superior rich, buttery flavor of the salmon while keeping it's succulent texture intact.  Grilling is great, but I think it takes more fat out of the fish than I want.  Slow roasting the salmon coaxes out all the amazing qualities of this fish, giving you a delicious and amazing dish to enjoy and share.  I had not heard of slow roasting fish until a few years ago when I bought the cookbook "Alaska from Scratch" by Maya Wilson.  This book quickly became my go to cookbook and her recipe for Slow Roasted king salmon looked divine.  I was a little skeptical as I didn't really like baked King.  But dang, it looked so good!  I gave it a try and was not disappointed.  So this method is accredited to her, and while I am not sharing her recipe, the method I'm describing is adapted from her cookbook.  I highly encourage you to check out "Alaska from Scratch".  It is amazing.  
How to Slow Roast your Salmon
Preheat your oven to 225.  Yes, just 225.  

Fill a glass 13 x 9 pan halfway with water and place in the lower third of your oven.

Place filet of King Salmon on a foil lined sheet, skin side down.

Season with salt and pepper and drizzle with a little olive oil (again, orange or lemon flavored oil would work great here.)

Roast your salmon for 45 minutes to one hour, checking for doneness after 45 minutes.

Once salmon flakes with a fork from the densest place on the filet, it is done.  

Enjoy salmon on a bed of greens or with a side of risotto.
Two Ways to Enjoy-Choose your Favorite
Both of these methods are great preparations for Copper River King Salmon.  They both highlight the rich flavor of this amazing fish.  Grilling firms up the flesh to please those who perhaps don't prefer the slightly softer flesh of King Salmon.  Roasting the Salmon amplifies the amazing texture and flavor of the fish for those who enjoy the succulent texture of King Salmon.  Try them both and enjoy this wonderful harvest season of Copper River Salmon.